Sourdough Bread Dumplings
Curry Gravy



400 g Sourdough bread


300-330 ml Milk


2-3 tbsp Shallot, fried


2 Eggs


50 g AP flour


1 tbsp Dried parsley


1 tsp Curry salt


1/2 tsp Black pepper


1/6 tsp Nutmeg powder

2 Onions, large


3 tbsp Butter


1 tbsp, Ginger, minced


1 tbsp, Garlic, minced


1 tsp Coriander powder


1 tsp Curry powder


1 tsp Cumin powder


1/4 tsp Turmeric powder


1/2 tsp Chilli powder


1 tsp Garam Masala


2 Green chillies, finely chopped


300 g Tomato puree


150 g 3. 5% Plain yoghurt


400 ml 1. 5% Milk


Salt and sugar to taste


1 tbsp Dried parsley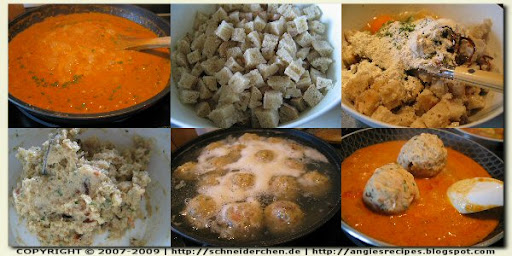 Dice the sourdough bread into small cubes and place them in a large bowl. Bring the milk to a boil and pour into the cubed bread. Cover and let sit for 30 minutes. Slice the shallot and fry until golden crispy. Mix the fried shallot and the rest of the ingredients into the bread milk mixture until well blended.


Form 16 small dumplings or 10 large dumplings out of the mixture. The dumplings should be firm but still sticky, so that they won't fall apart while boiling. In a very large pan bring salted water to the boil. Place the dumplings in the scalding water and simmer for 20 minutes. Dumplings are done when they float.


Peel onions, cut them into halves and microwave with a cup of water for 10 minutes. Remove the onions halves and puree them in your blender. Set aside.


Melt the butter in a skillet. Stir in minced garlic and ginger until aromatic, about 1 minute. Add in coriander, curry, cumin, turmeric, chilli, garam masala, chopped green chillies and onion puree. Stir fry for about 10 minutes.


Add tomato puree and yoghurt to the pan. Mix well and add milk to get a medium thick soup consistency. Add sugar and salt to taste. Simmer gently for at least 30 minutes. Reduce to a thick but pourable applesauce texture. If it starts to get too dry, add more milk. Add in the bread dumplings and sprinkle the parsley over.